2023 half-year figures
Metro integration progressing well, operating EBIT improving.
20 July 2023 - Group revenue for the first half of 2023 totalled €1,403 million, an increase of 24.2% compared to the same period in 2022. In 2022, we posted a large one-off book profit on the sale of our stake in Smeding. Adjusted for book profits, EBITDA was up €5 million to €54 million. Net profit for the first half of 2023 totalled €1 million.
Koen Slippens, CEO: "It is rather tricky to interpret the revenue development in the first half of 2023 due to the major differences compared to the 2022 basis for comparison. A COVID-19 lockdown was still in place in the first weeks of 2022, and this was followed by a spring with good weather. 2023, on the other hand, had a relatively cold and rainy spring. When May this year brought better weather, we saw a clear positive shift in the revenue and result development. Inflation had a major impact on revenue, gross profit and costs.
Our analysis of the market in the Netherlands and Belgium over the past few months shows that consumers are still going out and spending on hospitality. Spending remains strong and the market is growing. This is driven largely by price, as market volumes are under pressure. At Sligro Food Group, we are seeing volumes increase as we grow our customer base and sell more to existing customers, partly through our partnership with Heineken, while volumes are growing in Belgium on the back of our acquisition of former Metro sites. We are continuing to gain market share in both countries."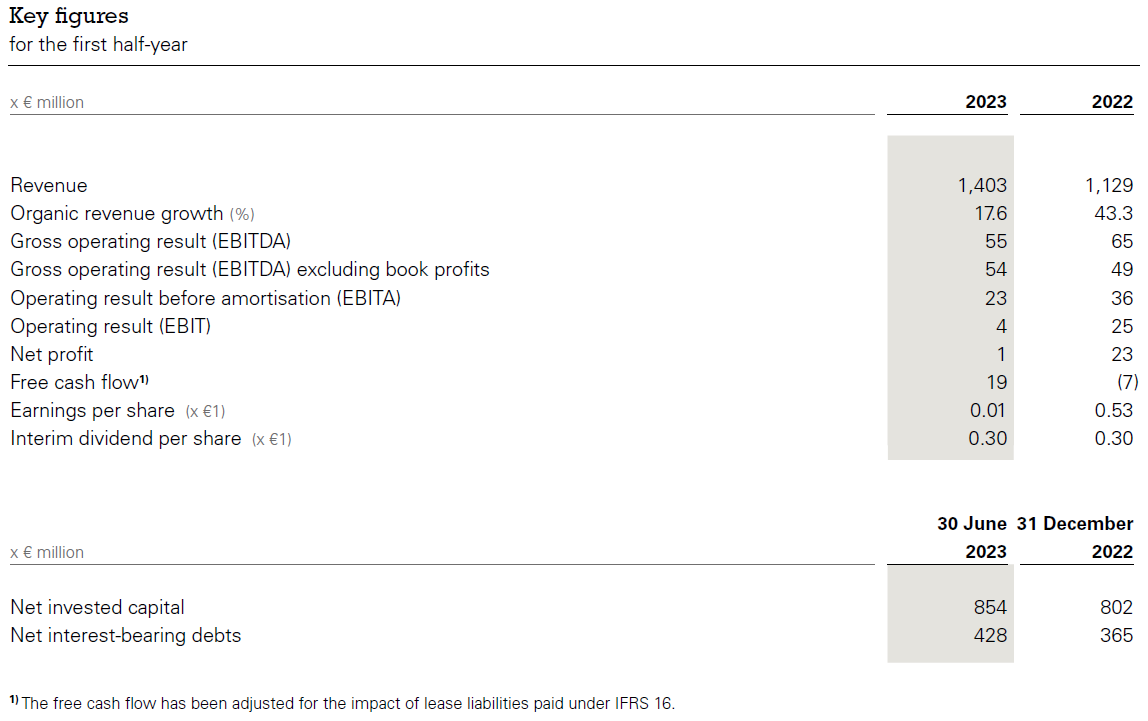 We always refrain from making any firm forecasts as to the results for the second half of the year. In our trading update of 19 October 2023, we will go into developments in the third quarter of 2023 in greater detail.
On that same day, we will hold our Capital Markets Day from 12 p.m. to 4 p.m., which you can attend at our head office in Veghel. The event will also be streamed.
Would you like to receive press releases of Sligro Food Group by e-mail?
Please sent an e-mail with your name, address and e-mail to Charissa Kleij: ckleij@sligro.nl